BodyShaper Compression LeatherLegging Pants
We would like to congratulate our customers on their success with our BodyShaper Compression LeatherLegging Pants as they submitted a photo of the result. Let's take a look!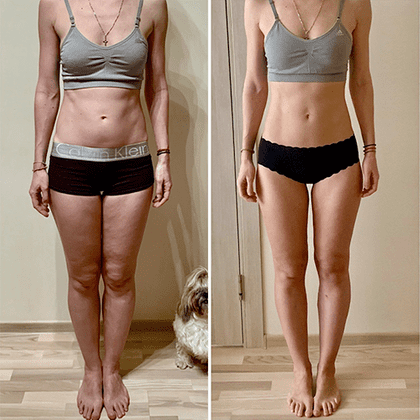 "I am a size 16, so I ordered the XL and XXL to ensure I had plenty of room to do squats and jump rope in these pants. When I first tried them on, they were a bit tight and seemed like they would sheer when I did squats. When I did my first set of squats, however, that didn't happen! The material is thick enough to hold everything in place while still being comfortable to move in. Overall, I am very happy with my purchase and plan on ordering more pairs of these pants soon!"—Edna Williams—66, Seattle, Washington
"I highly recommend these leggings! They are perfect for the gym. If you want a tighter fit, go one size down. I wear these leggings while doing weight training, cardio, and animal flow (when I'm out of breath). They stay in place and don't show through when squatting. I am impressed with these leggings. I hardly ever wear tight clothing—but I needed compression-support pants. These leggings give great support, promote better blood circulation, and are extremely comfortable and lightweight."—Shenna Wilson—47, Brooklyn, New York
Do compression pants actually do anything? Let's talk about how it works.
People today are more concerned than ever with their health and well-being. They are very careful about the amount of vitamins, minerals, carbohydrates, proteins, and fats they consume each day. They also consider what effect these nutrients have on their overall health, whether positive or negative. What about on the outside of your body?
Wearing fitness clothing during a workout can help you enhance your performance. Advances in technology have produced fitness clothes that help improve your performance with little additional effort or training required.
Compression pants can help increase the amount of blood that flows back to the heart from the legs when you are working out.
Compression pants may give a boost to your proprioceptive function (which helps with your ability to balance).
After your workout is done, compression pants can help reduce inflammation and assist the lymphatic system to drain lactic acid built up from exercising.
Compression pants can be especially helpful for seniors or anyone experiencing swollen legs or ankles, nerve pain, or circulation issues.
Many health studies have proven that wearing compression pants can help reduce muscle soreness and fatigue both during and after workouts.
Apart from reducing muscle fatigue, compression pants also help reduce the risk of strains.
ACUPUNCTURE FOR WEIGHT LOSS AND DETOXIFICATION
Advocates of acupuncture for weight loss believe that acupuncture can stimulate the body's energy flow (chi) to impact factors that can reverse obesity such as increasing metabolism. reducing appetite. Acupuncture can help with weight loss by regulating hormone production, improving metabolism, optimizing digestion, reducing inflammation, suppressing the appetite, lessening water retention, and optimizing other bodily functions that are related to obesity and weight loss.
Acupuncture can influence two hormones that aid in weight loss:3. By stimulating these two hormones, acupuncture can curb your cravings and appetite, improve digestion, and boost your metabolism. 
THE PRESSURE POINTS FOR WEIGHT LOSS (FOOT REFLEXOLOGY)
Pituitary Gland (Prevents Accumulation of Fats)
The pituitary gland is located in the center of your big toe. The main function is the discharge of almost every hormone in your body. The hormones deals with growth balance, metabolism, the sugar content of the blood, and levels of energy. Regular pressure on the pituitary during foot reflexology can prevent excessive accumulation of fats.
Thyroid Gland (Controls Metabolism)
The thyroid gland is located at the base of the big toe. The main function of the gland is to produce hormones that control your metabolism. Focusing on the thyroid gland during foot reflexology allows your body to regulate your body weight, muscle strength, and cholesterol levels.
Adrenal Gland (Burn Calories)
The adrenal glands are situated above the kidneys in our body. The reflexology point is located in the middle of the foot, aligned to the big toe. The main function of the adrenal reflexology point is to increase the energy in our body to burn off more calories. The adrenal gland also assists our body to cope with stress relief.
How do BodyShaper Compression LeatherLegging Pants work?
BodyShaper Compression LeatherLegging Pants are designed to promote blood flow from your legs to your heart. They apply gentle pressure to your legs and ankles, reducing pain, swelling, and inflammation in your ankles. They also expedite the plantar fasciitis healing process and improve muscle recovery in your ankle and feet. This sock aid in reducing lactic acid buildup, reducing inflammation & stress, and improving muscle recovery in your ankle and feet, including arch and heel support. They help broken, fractured, sore or swollen ankles.
What makes BodyShaper Compression LeatherLegging Pants special:
Relieving varicose problems and spider veins from tired legs
Improves skin tone, fights varicose and spider veins
Improves blood circulation
Relieve symptoms of chronic venous insufficiency
Quick relief to swollen and heavy legs, ankles, and feet
Improve venous tones by improving blood flow
It contains antioxidants
Help protects against cellular damage
It helps hydrate and soothes the skin to maintain healthier skin
Moisturizes your skin while helping aid in circulation
It has a natural detoxifying and firming ingredient
Helps plump and firm skin.
Kristen's 30 days journey of using our BodyShaper Compression LeatherLegging Pants.
1st Day
"I just discovered these pants through my friend browsing an online shopping site. On the first day of wearing them, I felt so comfortable. This made me believe that these socks really work. My legs felt a lot less tired and my calves didn't hurt as much."
15th Day
"I can't believe that my swollen legs have gone down so much. It's only been 15 days since I began wearing these pants, which are made with a special ingredient that dissolves clogs."
30th Day
"I am so glad I decided to keep these pants and use them regularly. They really work under my skin to get the edema, and that's a big help for me. After only 30 days of using these pants, I can already see an improvement."